Broken hearted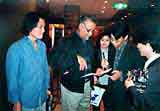 I asked Mr Joe Sample with my friends.            
Photo by Ms Yuko
Lyrics & Cord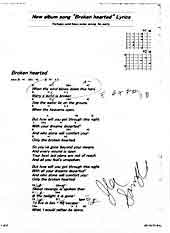 Click here
I asked Mr. Joe Sample song cord of Broken hearted directly on 30th Oct '97.     
Mr. Joe advised and corrected my some wrong copied cord.           
But I must say this is not official.           
I refer to his advice but copied by myself.            
So perhaps I have some mistakes.           
Mr. Joe has no responsibility about this.           
 
Theme from a movie that never happened
Cord
Intro  A9    
(Am F Cmaj7 E7sus4 E) *2        

Dm Bb C E7sus4 E      
Am F Am-5 B7 Am    
    

(A D E A  D B9 E A E )*2    

Please e-mail to me, if you try and troubled.